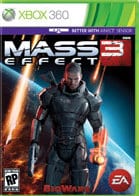 Mass Effect 3 will support Kinect, according to box art that reportedly appeared on EA's online store before being pulled.
The image (right) appears to show the Mass Effect 3 box art for the Xbox 360 version of the game, which features a banner saying: "Better with Kinect Sensor."
Is it a Photoshopped?
It has been
pointed out that the original image file is still on EA's servers. If it's true, we'll no doubt find out next week at E3.
Microsoft said in March
that Xbox 360 players should expect "more and more" core Kinect games in the future.
Is Mass Effect 3 one of them?